Enabling the connected aircraft
In today's aviation ecosphere, connectivity is more essential than ever. In the cockpit, more robust data streams and sophisticated applications enhance operational efficiency, safety and on-time flight performance. In the cabin, broadband connectivity allows passengers to stay connected throughout their flight and provides new ways to enhance the passenger experience.
Rockwell Collins offers a full array of solutions to meet the breadth of those needs, from the pilot in the flight deck to the young family in row 38.
In the Flight Deck:
Our avionics systems for business and commercial aircraft combine advanced situational awareness and intuitive decision-making tools with new connectivity services to enhance safety and efficiency.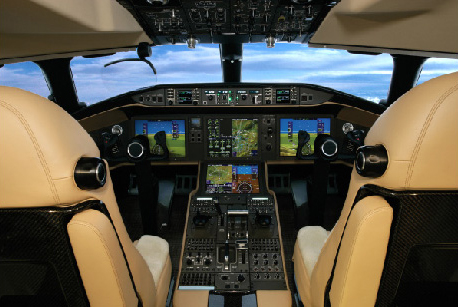 Airspace renewal efforts in the United States and Europe are driving new ways of communicating quickly and accurately. Our ARINC global network transmits voice and data link messages rapidly and reliably – 7.5 billion messages a year, all with 99.999% reliability.
We are at the forefront of the fully connected aircraft, providing onboard servers, routers and wireless access points, end-to-end global broadband connectivity services and cybersecurity solutions that protect the entire aviation network.
Pilots, crews, airlines and operators can benefit from a wide range of value-added applications and services, including real-time weather and flight plan updates, live credit card authorizations and ARINC MultiLinkSM global flight tracking.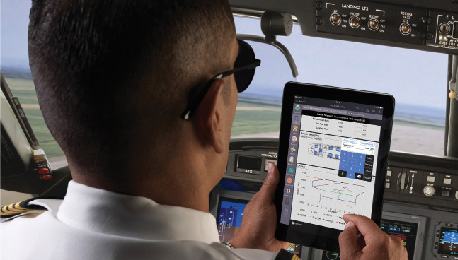 In the Cabin:
When it comes to in-flight entertainment, today's passengers seek engagement, entertainment and empowerment. In business aviation, our Venue™ cabin management system helps passengers maximize every moment of their flight with no compromises. And our PAVES™ in-flight entertainment and connectivity portfolio gives airlines a variety of options, from seatback to wireless solutions, and allows them to tailor the experience on and off the aircraft.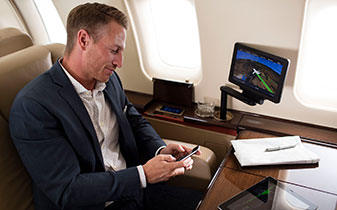 Passengers want high-speed connectivity to conduct business or stream content to their personal devices. As a value-added distributor of Inmarsat's new Global Xpress, the industry's first global broadband service, we're keeping them connected throughout their flight.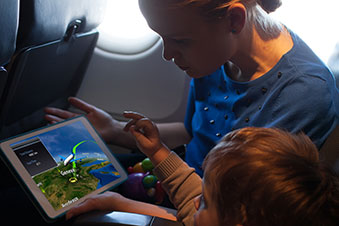 Throughout the Aircraft:
Real-time maintenance information reduces time on the ground and helps to better manage assets and repairs.