2010 Annual Report
Building trust every day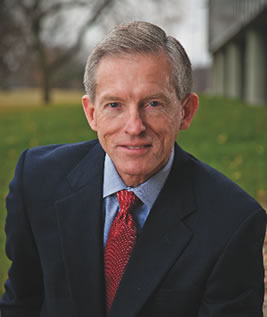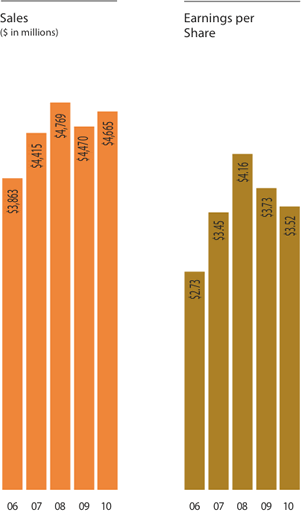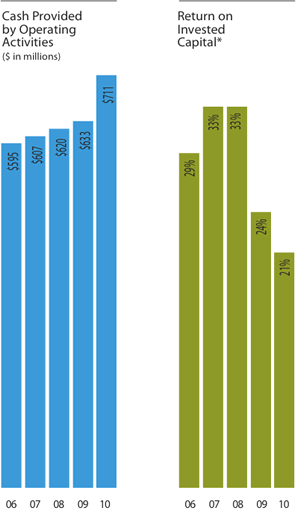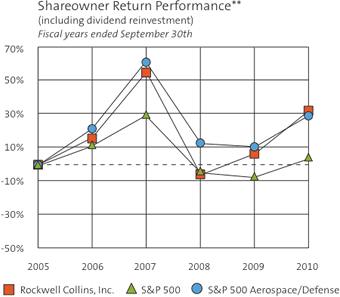 *

The Company calculates return on invested capital (ROIC) as net income excluding after-tax interest expense, divided by the average of invested capital at the beginning and end of the fiscal year. Invested capital is calculated as the sum of total shareowners' equity (excluding defined benefit accounting adjustments impacting accumulated other comprehensive loss) and total debt, less cash and cash equivalents.

**

The cumulative total return table and adjacent line graph compare the cumulative total shareowner return on the corporation's Common Stock against the cumulative total return of the S&P 500—Aerospace and Defense Index (Peer Group) and the S&P 500–Composite Stock Index (S&P 500) for the five-year period ended October 1, 2010, in each case a fixed investment of $100 at the respective closing prices on September 30, 2005, and reinvestment of all cash dividends.
Dear Shareowners
As we anticipated at the outset, 2010 was a year of transition. We managed the volatility in the global economy by maintaining focus on customer needs, aggressively targeting new business opportunities, tightly controlling costs and renewing our commitment to operational excellence through Lean ElectronicsSM. As a result of these efforts, I believe we are well positioned and poised for growth as the economy recovers.
Revenues for the year increased four percent over fiscal year 2009 to $4.7 billion and we delivered operating cash flow of $711 million—a record for our company. Earnings per share of $3.52 was at the upper end of the guidance we set over a year ago and we generated total segment operating margins of 19.3 percent.
Our commercial business experienced the residual effects of the economic downturn, as revenues fell five percent this year. However, we began to see improvement during the fourth quarter, which we expect to continue into 2011.
Unlike past cycles, airlines are responding to greater passenger demand by increasing load factors and taking delivery of new aircraft. With passenger and cargo rates at record levels, airline profitability predictions are soaring and aircraft manufacturers are increasing their build rates. These trends make me optimistic that this recovery will remain on track.
In the business jet segment, improvements in corporate profitability are driving increased aircraft utilization, which, while lower than the 2007 peak, is still showing steady improvement. As a result, we are seeing greater demand for service and support as well as for enhancements to flight deck and cabin systems.
Despite tightening defense budgets, Government Systems revenues increased 11 percent this year, due to deliveries of secure, rugged mobile satellite communications from our 2009 DataPath acquisition, iForce™ public safety vehicle systems and upgrades to tanker and transport aircraft. While we anticipate ongoing pressure on both domestic and international defense budgets, we have considered the impact to our future plans and made the appropriate adjustments.
Today, as the economy takes steps toward a better future, I am proud to say that Rockwell Collins has once again proven the ability to execute and deliver—even in times of uncertainty. And we believe we are positioned to capitalize on the opportunities ahead.
Well positioned to take advantage of market momentum
We realized significant wins across Commercial and Government Systems this year that, when added to our already strong positions in core markets, strengthen our ability to grow at rates faster than the markets we serve.
In Commercial Systems, our Pro Line Fusion™ integrated avionics system, which helped us gain considerable market share on new business and regional jets, is in flight tests and nearing certification. Development is currently underway for 10 aircraft platforms, with the first two—the Bombardier Global Express and the Gulfstream G250—scheduled to enter service next year. Our Venue™ high definition cabin management system is installed and flying on Hawker Beechcraft King Air 350 and Cessna CJ4 aircraft, and has been selected for installation on a Boeing Business Jet and an Airbus Corporate Jet, proving the extendibility of that system across a range of platforms, from turboprops to large, ultra-long range aircraft.
Our work in developing avionics systems for the Boeing 787 and 747-8 continues, with those aircraft approaching entry into service, as do development activities for the Airbus A350, with its first flight expected in 2012. Collectively, these new air transport platforms will deliver significant revenues over the next 15–20 years.
This year, we won positions on important new international aircraft programs. On China's COMAC C-919, we will provide communication, navigation and surveillance systems in the flight deck as well as cabin management and a new single-aisle inflight entertainment system. We also were selected to provide communication, navigation, surveillance systems, pilot controls and electro-mechanical systems for the Russian MC-21 single-aisle aircraft.
Government Systems added to already strong positions across its served markets. Our breadth of experience in secure communications and cabin management systems helped us win a $200 million program in the U.S. Air Force's Senior Leader Command, Control and Communications System. And our expertise in system integration enabled us to capture a $140 million contract to develop the Common Range Integrated Instrumentation System for major U.S. Air Force, Army and Navy test ranges.
Ongoing investment in advanced battlefield communications and strategic awareness solutions resulted in a contract to develop Nett Warrior, an integrated soldier system for the U.S. Army. Our capabilities in networking communication among coalition forces is now helping pubic safety officers coordinate between fire, safety, law enforcement and others through our iForce integrated public safety vehicle solution. To date, we have delivered more than 2,800 of these innovative new systems to the California Highway Patrol and 250 to the Royal Canadian Mounted Police.
Our avionics systems are in high demand for military fixed and rotary wing platforms. The competition for the U.S. Air Force's KC-X next generation tanker is underway, and we expect robust growth in deliveries of rotary wing aircraft such as the CH-47 and UH-60, which feature Rockwell Collins Common Avionics Architecture System.
The Joint Tactical Radio System program is advancing from development to testing and we are awaiting the onset of low rate initial production. These systems, which provide warfighters with secure, real-time information across an unpredictable battlefield, will save lives, improve operational readiness and help our troops penetrate the fog of war.
Going forward, as worldwide defense budgets tighten, our ability to provide innovative, cost-effective solutions for new programs and enhancements for existing platforms should enable us to deliver valuable solutions to our customers that are right for the times.
Poised for future growth in core and adjacent markets
While our company has enjoyed market success to date, we are not resting on our laurels. We have identified new opportunities that will improve our ability to grow faster than our addressed markets.
In the military market segment, we have opportunities to grow by leveraging core technologies into adjacent markets such as unmanned systems, ground vehicles and soldier systems.
In the commercial market segment, the acquisition of Air Routing provided important capabilities that position us for success in information management, a strategic growth area for our company. By leveraging Air Routing's skills as a trusted provider of regional and international trip support along with our avionics and cabin expertise, we are building a powerful new platform—Ascend™ flight information solutions—for corporate aircraft operators around the world. Ascend will provide flight departments, pilots and passengers with the tools and resources they need to get the most out of their very valuable aircraft assets. Flight departments will be able to synchronize the aircraft with their ground operations to gain efficiency and improve aircraft utilization, pilots will have access to the most up-to-date information while en route, and passengers can stay connected and informed in a cabin environment that is personalized for their needs.
A foundation for continued success
The foundational strategies by which we have operated for many years will continue to be the enablers for our success in years to come: high levels of investment in research and development, further expansion into emerging international markets, increased focus on operational excellence and development of a talented workforce.
This year, we invested $861 million, or 18.5 percent of sales, in research and development so we can provide customers with smart innovations far into the future. Our investment has not gone unrecognized. The independent Patent Board ranked our company third in the aerospace and defense industry for "technology strength," surpassing other, larger companies, based on the quality of our patent portfolio.
Our international presence continues to grow. We have had operations in Australia, Brazil, China, France, Germany, Singapore and the United Kingdom for many years. As the world's economy evolves and new markets emerge, we are expanding our presence in India, China and the Middle East, to capitalize on new opportunities in these dynamic regions.
By applying Lean Electronics across the enterprise—from the factory floor to the management offices—we've shortened development cycle times, reduced inventories, added functionality and value to our products, and improved quality and on-time delivery. Ultimately, it is our people and their ability to drive Lean and continuous improvement in everything they do that will enable our company to stay competitive and deliver the value and quality our customers expect.
We focus attention on the well-being and success of our 20,000 employees through our Value Proposition for People. Within this strategy, we have a talent management process that supports everything we do to acquire, evaluate, reward and develop our people. A focus on diversity and inclusion makes sure that everyone who chooses to work here feels valued for their differences and contributes to Rockwell Collins' success. And we promote effective leadership and professional development for all members of the Rockwell Collins team through an advanced leadership development program and Rockwell Collins University, a hub of ongoing education launched in 2009.
Looking ahead
Looking to 2011, we anticipate Commercial Systems will experience robust growth as their markets improve. And though the rate of growth in Government Systems will moderate, that business is expected to contribute meaningfully to company performance and enable us to generate double-digit EPS growth.
Our expanding global footprint will present new opportunities, and a spirit of innovation drives us to discover valuable technologies. Acquisitions will bring complementary capabilities and new ideas to our core competencies. Ongoing Lean activities will help us achieve efficiency, eliminate waste and provide increased value to our customers. Through these efforts, I believe we are prepared to take maximum advantage of opportunities and are agile enough to deal with uncertainty in our markets.
Even in the depths of the global economic crisis—the worst I've seen in more than 30 years—I was reminded of the strength of our enterprise. Corporate values of innovation, teamwork, integrity, customer focus and leadership not only helped us weather the storm, but emerge from it leaner and smarter. As a result, we remain well positioned with our stakeholders and ready for the future.
Thank you for your confidence in our company. We will continue to work hard to earn your trust—every day.
Sincerely,

Clayton M. Jones
Chairman, President and Chief Executive Officer