Kelly Ortberg
Chairman, President and Chief Executive Officer

Dear Shareowners,
In fiscal year 2016, Rockwell Collins delivered solid operating results despite challenging conditions in some of our markets. Highlighting this performance was a return to growth by our Government Systems business, strong Information Management Services and air transport original equipment manufacturer revenue, and improved operating margin performance.
Overall, a 6 percent increase in Information Management Services revenue and 1 percent growth in Government Systems were mostly offset by a 2 percent revenue reduction within Commercial Systems, driven by lower business aviation production rates and increased avionics recycling within our air transport aftermarket. As a result, our total revenue was approximately flat year-over-year at $5.3 billion.
As noted in last year's letter, these challenges were anticipated. The corresponding cost savings initiatives we implemented earlier in the year allowed us to improve total segment operating margins by 10 basis points to 21.2 percent. Income from continuing operations totaled $727 million – a 5 percent increase – and earnings per share from continuing operations grew 6 percent, from $5.19 to $5.50.
Looking ahead, there are many reasons to believe in the long-term value of our company. Let me share why I'm enthusiastic about our recent successes and confident we have the right strategies in place.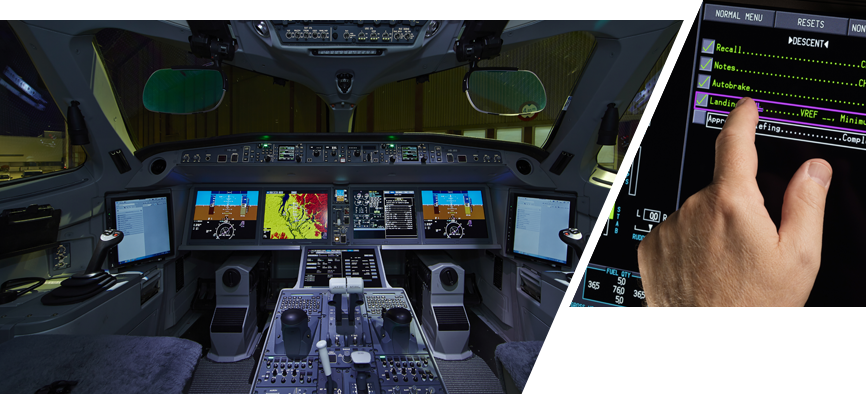 Strong positions
We saw our Pro Line Fusion® avionics system installed base continue to grow in fiscal year 2016 with the delivery of the Bombardier C Series, the Embraer Legacy 450 entry into service and the first flight of the Mitsubishi Regional Jet. In air transport, we supported the initial flights of the Boeing 737 MAX, which will have 50 percent more of our content than the current 737NG. New commercial programs such as these, along with rate increases on a number of next generation air transport platforms, are expected to drive growth over the balance of the decade.
With improved sentiment around defense spending, we remained focused on delivering increased value and capability across our entire Government Systems portfolio this past year. Rockwell Collins was selected as a key supplier to Northrop Grumman on the B-21 Raider, and our technology aided the Boeing KC-46A's first tanker refueling flight. We continued to set the standard for C-130 aircraft upgrades with our next generation avionics, and we completed the acquisition of the Matrix™ projector line, giving our customers a broader and deeper range of industry-leading simulation and training solutions.
Additionally, our Information Management Services business continued to be a growth platform for us, capitalizing on increasing demand for aircraft connectivity and positioning us as a market leader in aviation's information age. In fiscal year 2016, we advanced the breadth of our ARINC global network, and introduced additional value-added services to enhance efficiency and safety. As part of our ARINCDirectSM offering, private air charter providers such as VistaJet and Zetta Jet were among the first to adopt Inmarsat's Jet ConneX, the fastest and most reliable broadband-speed connectivity in the cabin of business aircraft.
Rockwell Collins has long been unique in our ability to leverage technologies across the whole of our commercial and government portfolios, enabling us to realize even greater returns on original investments. For example, this past year, the touch-control technology originally developed for primary flight displays on business jets, and later for rotary wing aircraft, led to our selection as a supplier of touchscreen primary flight displays for the Boeing 777X, an industry first for an air transport aircraft.
Investing in customer satisfaction
In my mind, one of the best measures of success is what our customers think about us. In fiscal year 2016, our employees achieved industry-leading overall customer satisfaction across all three businesses due to their responsiveness, innovation and ability to deliver on commitments. This level of superior customer value contributes significantly to our prospects for growth over the long term.
Our Information Management Services business maintained extremely high customer retention rates, including a 100 percent renewal rate for our ARINC GLOBALinkSM subscribers. In Commercial Systems, we were named the top-performing supplier by a number of airlines and original equipment manufacturers, including Airbus and Bombardier, and received awards from all three major aircraft makers in the Asia Pac region – Mitsubishi, AVIC/XAC and COMAC. In Government Systems, our performance with Embraer on the avionics for the KC-390 tanker/transport helped us secure a follow-on award for the aircraft's cargo handling and aerial delivery control system.
Year ahead
For fiscal year 2017, we remain focused on meeting our commitments to our customers and positioning our business for future growth. Our Information Management Services sales are expected to be up mid-to-high single digits, and Government Systems sales are expected to grow low-to-mid single digits.
We expect that business jet demand will continue to be challenged, as the trends that slowed our 2016 commercial growth are projected to continue into the next fiscal year. However, we also expect air transport and regional jet aircraft production rates to continue to increase, and the Boeing 737 MAX – the largest commercial aircraft program in our company's history – is scheduled to enter into service. As a result, Commercial Systems revenues are projected to be about flat.
Most important, this year we expect to accelerate our free cash flow performance as development costs wind down and new aircraft production rates increase.

Accelerating growth
As we look to the future, we're also writing the next chapter of the Rockwell Collins story.
The acquisition of ARINC provided us with numerous opportunities for synergies across our business to drive new, innovative capabilities and growth. We're continuing to gain competitive advantages through our synergy strategies. In fact, Norwegian Air Shuttle will be among the first in the industry to experience a true nose-to-tail integrated digital aircraft solution, courtesy of Rockwell Collins' advanced avionics, cockpit communications, cabin connectivity and information management solutions.
"Norwegian Air Shuttle will be among the first in the industry to experience a true nose-to-tail integrated digital aircraft solution, courtesy of Rockwell Collins."
We're also excited about the potential to enhance Rockwell Collins' overall value with our agreement to acquire B/E Aerospace, expected to close in spring 2017. This transaction will bring together two industry-leading franchises, strengthen our position as a leading supplier of cockpit and cabin solutions, increase our scale and establish a new platform of growth for our company. And, ultimately, the acquisition is expected to deliver significant benefits to our customers and shareowners1.
I'm proud of the strategies we've put in place, the products and services we're creating and our talented people. We are determined to accelerate long-term growth so that we can continue to reward our shareowners and other stakeholders, and share in the bright future of our company.
Thank you for your continued support.
Kelly Ortberg
Chairman, President and CEO